Overview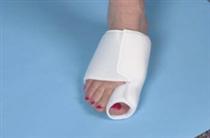 A bunion is enlargement of bone or tissue that develops at the joint that connects your big toe to your foot. The bones, muscles, ligaments and tendons of your feet normally are well-balanced to distribute your body's weight while standing, walking and running. When the joint, called the metatarsophalangeal joint, or MTP joint, experiences abnormal, prolonged stress in terms of weight distribution or squeezing of the toes within the shoe, the result can be the deformity called a bunion. Generally, a bunion develops when, as a response to prolonged stress, your big toe begins bending toward your foot's smaller toes and puts pressure on your MTP joint, forcing it to bulge outward (the term "bunion" comes from the Latin word for "enlargement"). There is no "standard" bunion, however, but rather a complex range of joint, bone and tendon abnormalities that can cause variation in each bunion's make-up.

Causes
High heels can exacerbate a potential bunion problem because they tip the body?s weight forward, forcing the toes into the front of the shoe. This may help to explain why bunions are 10 times more common in women than in men. People in occupations such as teaching and nursing, that involve a lot of standing and walking, are susceptible to bunions. Ballet dancers, whose feet suffer severe repetitive stress, are also amongst those who experience bunions. Women can sometimes develop bunions and other foot problems during pregnancy because hormonal changes loosen the ligaments and flatten the feet. Bunions are also associated with arthritis, which damages the cartilage within the joint.

Symptoms
Since the pain from a bunion is always aggravated by shoe wear, the symptoms will often depend on the type and size of shoes worn. The perception of pain or discomfort that people experience is quite varied. There are some individuals who have small bunions that are very uncomfortable. This limits their ability to wear shoes comfortably. On the other hand, some individuals may have quite significant deformities that are annoying but do not limit their activities in anyway.

Diagnosis
Your doctor can identify a bunion by examining your foot. Watching your big toe as you move it up and down will help your doctor determine if your range of motion is limited. Your doctor will also look for redness or swelling. After the physical exam, an X-ray of your foot can help your doctor identify the cause of the bunion and rate its severity.

Non Surgical Treatment
Bunions often respond to conservative care measures and should always be treated by a qualified healthcare professional in a timely and appropriate manner. Conservative treatment for bunions usually involves the following, splinting your great toe (so that it does not migrate toward the inside edge of your foot). A toe-spacer (such as Correct Toes) may be a useful tool, because it helps progressively splay and re-align all of your toes. Performing range of motion exercises (to move your big toe into a more favorable position). Supporting of the joints in the back of your foot that cause forefoot instability. Using shoes that allow the bunion splint to keep your big toe pointing straight ahead.


Surgical Treatment
To end persistent pain, your doctor may recommend a type of foot surgery called a bunionectomy to remove the bunion and perhaps to reshape the first toe joint. During the operation, the swollen tissue will be removed, the big toe will be straightened if necessary, and the bones of the affected joint may be reshaped or permanently joined. The goal of the surgery is to correct the cause of the bunion and to prevent the bunion from growing back. After surgery, pain medication will be prescribed, and you will be told when you can start moving your toes and ankle.